I am invited by Laura of
Happy Homemaker UK
to join a 'Around the World in a Day' linky party.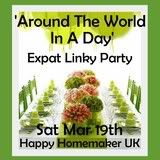 So here is my story from Johannesburg, South Africa!
I am a Dutch expat who travels around the world with my handsome hubby and adorable twin girls, who we adopted when we were living in Thailand at the age of 3 months. Jasmine and Juliet are 8 now, almost 9 next month!
We have an exciting life and lived so far in Holland in a few places, Tenerife and Lanzarote both on the Canary Islands, just south of Spain, closer actually to Morocco. Then we moved to Eugene, Oregon to do some studies, back to Holland to get married before we moved to Jomtien in Thailand. Here we lived for 5 years and this is when our twins entered our lives, so much fun!!
After that we went to Ridgefield, Connecticut for 5 years, the North East of the USA and that was a grand time as well.
But now we are already 2,5 years here in Johannesburg, South Africa which is actually more fun than most people would think. It is a gorgeous country and SA was voted one of the countries with the best sceneries by Conde Nast Traveller in 2006 and last year in 2010 the idyllic
Pezula Spa in Knysna
one of the best SPA's in the world! So go figure! If Conde Nast says it it must be good!!
We Like to go on safaris all the time, the girls are addicted to seeing those wild animals so close up by now that they are always begging to go again on another trip! Nature is just amazing here, and the skies are breathtaking! We have the most spectacular thunder and lightning storms where the sky just opens up and the sunsets are a deep orange I have never seen anywhere else!
Yes, there is crime in this country, everybody always warns me about it, but hey; would I live here and jeopardize the lives of my precious children if I knew that it would be too risky!! You just have to know where and when you are going places, like any big city in any country... you can't just go anywhere after dark! But I was not planning to do so anyway, so when I keep to those rules I feel pretty safe here!!
So why don't you come over and crash my couch, come and visit this beautiful country! You will be amazed!!
See you later! and as they say in ZULU: Sizobonana!
I am looking forward to reading your stories!!
Mireille